Hawaii HomeOwnership Center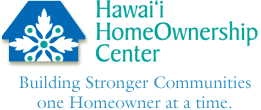 The mission of the Hawaii HomeOwnership Center is to provide education, information and support to create successful first-time homeowners in Hawaii. By addressing barriers and increasing rates of home ownership, the HomeOwnership Center aims to build stronger families and communities throughout the state of Hawaii. Their vision is to substantially increase the number of successful homeowners by reaching out to low- and moderate-income families who never believed they would become homeowners. 

Why should you come to the Hawaii HomeOwnership Center?
The Center provides you with all the information and services you need to become a homeowner—all in one place. You will attend a free, one-hour class to get information on what it takes to become a homeowner. The orientation class will give you an introduction to home ownership, assess your readiness to buy a home, and describe the home-buying process. A home could be a single-family, multi-family, condominium or townhouse unit. 

What services are offered by the Center?
Home buyer education
One-on-one counseling
Financial literacy training
Referrals to professional services (REALTORS®, lenders, insurance)
Post-purchase counseling
How much will these services cost?
The one-hour home buyer orientation class is free to all interested home buyers. If you are interested in taking the next step, you will be asked to fill out an application form and pay $20 for a credit report. 
There is a $100 fee to attend an 8-hour home buyer education class. $50 will be refunded to you when you become a homeowner! 
All one-on-one counseling is included at no additional charge. 
How can you sign up for the free home buyer education orientation?
To enroll, call (808) 523-9500 today. Classes are held weekly at convenient times and locations. Visit 
www.hihomeownership.org
 for the latest class schedule.