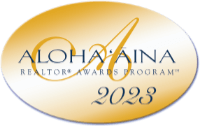 Aloha 'Āina REALTOR® Awards Program™
REALTORS® are members of the National Association of REALTORS® and represent an elite group of real estate professionals who are bound by a strict Code of Ethics and pledge to protect and promote the interests of their client and treat all parties honestly.
Who's eligible to be nominated?
Only active REALTOR® members of the Honolulu Board of REALTORS® who are in good standing are eligible. Your REALTOR® must have assisted you on a real estate transaction that closed between Sept. 1, 2022, and Aug. 31, 2023. Note: Nominees who have had any professional standards violations within the last ten calendar years will not be eligible.
How do I nominate my REALTOR®?
To nominate your REALTOR®, click here. You will need create a username and password to begin your nomination (this account is free and confidential). You may save your nomination and return to it at any time before submitting it. You and your REALTOR® will receive an email confirmation once your nomination has been submitted.
Must all sections of the nomination form be completed?
Yes, all fields are required. You will have the option to save your nomination and return to it at a later time, prior to submission.
When is the submission deadline?
All nominations must be received by the Honolulu Board of REALTORS® by 11:59 p.m. (HST) Sept. 7, 2023.
Will my REALTOR® be notified if nominated?
All REALTOR® nominees will be notified by the Honolulu Board of REALTORS®, and will receive a copy of their nomination.
Can I submit additional material along with my online nomination?
No, the online nomination should provide sufficient space to share your story.
When will the winners be announced?
The winners will be announced in December at the Honolulu Board of REALTORS® Winter General Membership Meeting and in a special tabloid of the Honolulu Star Advertiser.
Whom may I contact if I have questions?
Please contact the Honolulu Board of REALTORS® at (808) 732-3000 or email This e-mail address is being protected from spambots. You need JavaScript enabled to view it .